My vision: PLLOB?! – enable change – strengthen values – unlock potential
As a keynote speaker, I speak at conferences or initiate an organizational change in companies, which is then carried out with my support. My speeches focus on leadership. In doing so, I dedicate myself particularly to the challenges of compliance for executives. In my opinion, executives play the central role in establishing an efficient and effective compliance management system in the company. If we manage to win executives for their compliance task, compliance is anchored in the DNA of the company sparing resources and will stay there effectively. Managers assume responsibility. In such an environment, rules and regulations are not just meaningless or patient papers, but are repeatedly questioned critically and actually depict existing processes. Then less is often more!
My speeches and compliance advice are marked by decades of practical experience, as a manager in the compliance field. To this extent, I am also a theorist, but with a strong practice momentum and a wealth of knowledge about the pitfalls of implementing solutions in the day-to-day business. In that regard, it is important to implement the appropriate and proportionate set of rules, especially with regard to compliance. I support you in the doing! (Riskmapping, trainings, etc.) However, this set of rules must also be practiced.That is why I have looked for approaches and found those that bring compliance into the organization so that it becomes a natural part of corporate DNA. It is no longer a foreign body and its positive potential can develop completely. I see Compliance as a management task which results in a decentralized, functional, resource-conserving and culture-forming compliance management system. As such a Compliance Management System can function as an effective Immun System of the company against attacks on its integrity.
The titles of some of my speeches will give you an idea of what to expect:
From policies to the corporate culture – MODELS OF COMPLIANCE – ORGANIZATION
Beyond conventional compliance – Compliance as a leadership challenge to be enthusiastic about!?
Compliance = Rules and Documentation versus Compliance as a natural part of a company's DNA.
Who is taking responsibility here? Lack of decisionmaking, decision-"pingpong".

P

L

L

O

B

?! – Compliance made simple

P

L

L

O

B

?! – a short form for Compliance
Have you applied the "

P

L

L

O

B

?!-Test"?!
What is the meaning of

P

L

L

O

B

? (more under

P

L

L

O

B

or further below in this TEXT.)
…
I would be delighted to introduce your executives to concepts of compliance in an unconventional way. The aim of my speeches is to show leadership solutions that can lead you away from the compliance dilemma.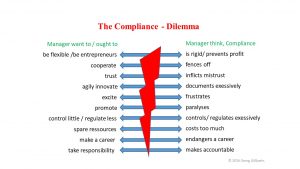 If you want to consider the subject of compliance beyond a lecture,
go back one step.
What do we really want to achieve with a compliance management system?
An effective and sustainable compliance management system pursues different objectives. Ultimately, all compliance efforts, in addition to the goal of being a Good Corporate Citizen and protecting the company from damage, are also directed towards protecting the company's top management from liability.To actually achieve these goals with regard to compliance violations also depends on whether the top management has effectively delegated and communicated its compliance responsibilities and has created an effective immun system of the company. There is a classic attempt to transfer compliance responsibility to compliance areas or even to a single Chief Compliance Officer. However, studies show and the ongoing compliance cases suggest that management's attitude towards compliance is often not as expected or that there is a lack of serious implementation. It makes little sense, however, to imply that managers tend to an attitude to breaking rules  as a principal. It is more enlightning to look at things from different angles.
Here the guiding principle is: The person who lies to himself can not change.
or according to Johann Wolfgang von Goethe: "Not enough to know, you also have to apply it; it is not enough to want it, you have to do it."
In any case, it is doubtful whether the compliance officer can be successful in such an environment at all. It is also questionable whether the management has to be accused of the fact that it has placed their hopes on organized misunderstandings or irresponsibility to increase the volume of business. Perhaps it should have known that its executives do not really support compliance. This raises the question of how executives can be more involved in compliance. If this fails, it is hardly conceivable how compliance can be achieved at all. Or, in other words, in the fewest companies compliance will be a natural part of corporate DNA. As a result, the number of -also systemic- compliance violations will not decrease the companies immun system against attacks of its integrity will not function.
Above all, it is of central importance to convey to executives that compliance is a genuine part of their management tasks. How, however, will managers adopt  this new approach, which is undoubtedly associated with negative associations (see above "Compliance – dilemma")?
And you will see that if the compliance dilemma is carefully resolved, even enthusiasm for compliance can take root . This requires that managers be given trust and responsibility with regard to compliance. They must be able to shape compliance and be efficacious. Then, finally, a feeling of togetherness is restored. Perhaps we give the term compliance in the process of change a different name.
The realization of change with regard to the Compliance attitude of executives is attempted in various ways. Executives are trained intensively, are confronted with dilemma situations and asked to resolve them ("dilemma-trainings"), or compliance games are played. Will these endeavours change the perception of the executives and make compliance a leadership task?
Considering the ongoing compliance violations, this question is pressing and doubts are justified. The change can only be achieved if management executives openly discusses the approach "compliance as a Leadership task". They must be willing to share their views regarding their Leadership task, authorities and responsibilities (Leadership-TAR) with a view to compliance. The conversation with the executives alone and their serious engagement with the topic can lead to a change in their attitude.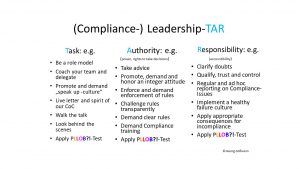 The Leadership-TAR can serve as a suggestion and a thought-inspiration, which the executives  can absorbe through workshops. They might believe that they lack the qualification to perform compliance as a true management task. The reference to the fact that the task to be a role model (see above), is a classic management task will trigger an intense thought process and a lively discussion. The indication that they have the authority to demand compliance advice or compliance training will counter the objection that they were not up to the task due to lack of qualification etc .. (
The PLLOB®!?-Test as Leadership-Task: You might wonder what PLLOB®!? stands for. It is the short form for good Compliance. "P" stands for Press and the question: could this become public?! The first "L" stands for Leadership and the question: is this examplary and according to our values?! The second "L" stands for Legal and the question: is this according to our rules?! The "O" stands for Others and the question: what does my social enviroment say about this?! "B" stands for Belly and stands for: what does my gut feeling tell me?! I am convinced that applying the PLLOB®!? test can keep you away from incompliance, safely. When have you last PLLOBed a decision?!

As a result of these discussions, leaders will find their own common ground for how "Compliance as a management task" can and should be reflected in their daily work. At the same time, they can agree on the content of the TAR or make it suitable for themselves. In any case, this process ensures the highest degree of acceptance for the new approach "compliance as a management task". Certainly an appropriate framing and professional execution of the workshops is decisive for the success. In order to spark interest among the leaders, unconventional frameworks, methods and tools should also be considered.
One of the strategic goals of any company should be that compliance becomes a natural part of corporate DNA. This goal can not be achieved "overnight" and is a continuous learning and improvement process. The achievement of this strategic objective also requires a holistic view of the action on the components of the overall organization, areas / teams and finally the individuals. In each case, the actual level and the cultural / emotional level must be investigated. Many companies will find that they are farther than they think; others have a longer way to go.
The joint elaboration of the Leadership-TAR with the executives serves as a "starting shot" for an integrated change process with which the strategic goal "compliance is a natural component of the company DNA" is to be achieved. Their design and acceptance among management forces can have a strong positive-catalytic effect within the process of change. The discussion about the TAR can serve as a central intervention within the framework of the integrated change process of the company organization.
Ultimately, it is about developing the compliance organization with the help of the executives – – the compliance officer should not be isolated to a lonely post. In addition, the process of change has the potential to influence the climate of cooperation in the company as well as to unleash creative energies, in addition to achieving the strategic goal.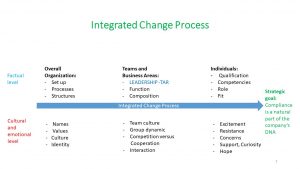 If the integrated change process is carried out, further valuable insights will emerge. It may be that management development programs are not yet set up to promote and demand the desired attitude towards "compliance as a leadership task". Existing Management by Objectives Systems will be scrutinized more closely. Objectives are adjusted, so that they do not offer any unwanted incentives etc ..
Finally, it is a good idea to listen to the employees and executives of an organization at regular intervals to explore the extent to which compliance is already or still a natural part of company's DNA. Employee surveys are available, which contain the necessary questions.
I'm convinced that
The top management should regularly reflect on the following question. It could also be integrated into a company-wide survey:
Has our organization,
A system of common values and principles, which gives the employees – especially the leadership team – a direction in predicaments. These values and principles are flanked by a true and authentic Tone at and from the Top,
Clearly communicated to the company's executives through our Top-management that compliance must be a natural part of corporate DNA. As a result, executives should consider compliance as genuine part of their task, authority and responsibility,
Processes, directives and instructions, which are actually followed, and not only a meaningless set of rules, which is intended to serve, in particular, for the protection of the Top-executives from liabilty (and ultimately hardly acchieves the desired result)
A crisis plan that prepares the company for a compliance case,
A regular "listening" to the "tone from the bottom" (e.g. through employee surveys) to find out where the company is in terms of its compliance / integrity culture,
A "Speak up / backbone culture". In other words, our employees and colleagues would tell us if they answered the above questions with "no",
A whistleblowersystem (and this does not have to be the "high-gloss solution") that enables employees and colleagues to do so. E.g. to express this "no" anonymously, in the event that our assessment of the above questions is wrong and we do not want to hear the "no"?
The management should be able to answer the above question after thorough consideration with a well-founded "yes".
What do you think?
I would be pleased to support you on your way to making Compliance a natural part of your company's DNA.
Have I piqued your interest? Then feel free to contact me.